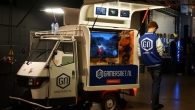 Sightseeing At The-Party!
Er is een hoop te doen op The-Party 15 en we kunnen ons voorstellen dat je het overzicht soms even kwijtraakt. Daarom hebben we een lijst opgesteld met een paar sightseeing punten die je zeker even gezien moet hebben!
Als je één van de verstopte paaseieren hebt gevonden kun je die links van de mainstage inleveren bij
Trust Gaming
voor een prijs. Hier kan je ook meteen de Trust Gaming hardware uittesten.
Direct rechts van de mainstage vind je de Tuktuk van
Gamersnet
. Hier kan je niet alleen terecht om te genieten van Ghost Recon Wildlands of om je vrienden te pwnen met Injustice 2, maar ook voor de verzamelbare "voetbalplaatjes" die daar verkrijgbaar zijn.
Naast Gamersnet staat de stand van
Computer-bestel.nl
en
Cooler Master
. Hier kun je verschillende toffe workshops volgen of jouw perfecte nieuwe Gaming Gear vinden. Cooler Master stelt namelijk Gaming Gear te leen zodat je het op je eigen plek kan uittesten en kan zien wat bij jou past.
Helemaal rechts van de mainstage is de Streaming Area, misschien kom je jouw favoriete streamers hier nog wel tegen!
Tot slot hebben we tegenover de Streaming Area het Inside eSports podium. Hier zullen gedurende de dag interviews en tafelgesprekken plaatsvinden die je live maar ook vanaf je stoel kunt volgen met
The-Party TV
.