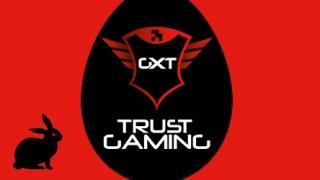 | | |
| --- | --- |
| Wanneer? | Thu 01 Jan 01:00 |
| Toernooiformaat? | 1v1 |
| Waar? | |
This competition / activity does not require subscription. Gather at the specified location at the specified time!
Ook dit jaar valt The-Party zoals gewoonlijk weer in het paasweekend. Vandaar dat de paashaas traditiegetrouw weer een aantal paaseieren komt langs brengen. Toevallig is de paashaas gék op gamen, en daarom zal hij maar liefst 10 paaseieren zo goed mogelijk verstoppen in het beursgebouw. Dit betekent dat iedereen, zoals ieder jaar,  mee kan doen aan de gebruikelijke Easter Egg Hunt en daarmee kans maakt op vette prijzen!
Deze prijzen heeft de paashaas niet zomaar ergens vandaan,  dit jaar is hij in zee gegaan met niemand minder dan Trust Gaming! Zij zullen met een vijftal mensen aanwezig zijn op The-Party om de gevonden paaseieren bij in te kunnen leveren. Na inlevering van het ei krijg je van Trust een heuse Trust Gaming tas, een muismat en een inflatable shield.
But wait, there is more! Mocht jij één van de twee paaseieren met de zilveren prijs vinden en deze inleveren, dan krijg je een Trust Gaming GXT 177 muis.  Wanneer jij de gelukkige bent die het paasei vindt waar de gouden prijs aan hangt, dan krijg jij na inlevering een Trust Gaming GXT 353 headset!
Genoeg redenen om ook dit jaar op zoek te gaan naar de paaseieren. Succes!