# Tt eSports Rocket League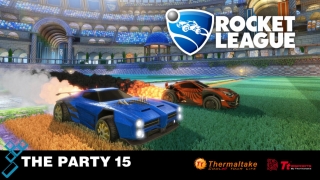 | | |
| --- | --- |
| Wanneer? | Fri 14 Apr 22:00 |
| Toernooiformaat? | Team vs Team |
| Waar? | The Party 15 |
De inschrijvingen zijn momenteel gesloten!
Tt eSports Rocket League
Discord Informatie
Alle communicatie tussen de spelers en de compo admin verloopt tegenwoordig via onze
Discordserver
. Het is dan ook van belang dat je aanwezig bent in de Discordserver van The Party. Tevens is het ook belangrijk dat je je er van bewust bent dat er ook nog een lower bracket is. Dit houd in dat als je bij de eliminatieronden in de upperbracket een keer verliest, dat je dan nog eens moet spelen in de lower bracket. En dus nog kans maakt op een finaleplaats!
Format
3v3 Best of 3. De finales en halve finales zijn best of 5. De winner van de halve finale die uit de upper bracket komt krijgt een 1-0 voorsprong in de finale.
Map
DFH Stadium
Game instellingen
No bots Region Europe Party only lobby (Teamcaptains nemen contact met elkaar op om de lobby te maken, vandaar dat het ook belangrijk is om op Discord aanwezig te zijn.)
Team kleuren
Teamcaptains overleggen ff welke kleur wie kiest van te voren in de Discord.
Scores
Zorg dat jij als Teamcaptain zijnde op tijd de juiste scores in het systeem door geeft. Zodat de andere Teamcaptain deze op tijd kan confirmen. Zodat de voortgang van de competitie zo voorspoedig mogelijk verloopt. Mochten we snel kunnen spelen dan is het mogelijk om zaterdag aan het eind van de dag MISSCHIEN op de mainstage de finale te spelen met commentaar. Wat wel vet is natuurlijk.