# Acer Predator League of Legends 5v5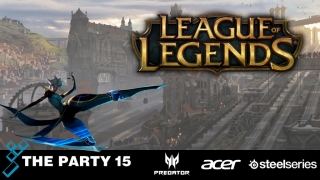 | | |
| --- | --- |
| Wanneer? | Fri 14 Apr 22:00 |
| Toernooiformaat? | Team vs Team |
| Waar? | Online @The Party 15 |
De inschrijvingen zijn momenteel gesloten!
Confirmen
Om de Acer Predator League of Legends 5v5 tijdig te kunnen starten dient iedereen zich bij de compo admins voor 14-04-2017 22:00 te confirmen. Iedereen die niet voor dit tijdstip de status "confirmed" heeft zal helaas niet meer mee kunnen doen.
SeatNR en LoL Summoner Name
Om er voor te zorgen dat iedereen makkelijk te vinden is willen wij graag dat
alle deelnemers
hun stoelnummer op hun profiel zetten (
http://tp15.lanergy.eu
)
Discord-Info
Het merendeel van de communicatie tussen admins en spelers zal verlopen via
Discord
. Het is daarom van groots belang dat spelers gedurende hun deelname aan de competitie verbonden zijn met #league_of_legends op
de Discord server van het evenement
.
Compo info
Direct na het spelen van je match kun je door tegen de volgende tegenstander. Mocht je tegenstander niet reageren op een bericht of invite in LoL, loop dan even langs de seat van je tegenstander.
Groep fase/bracket
Best of 1
Halve finales
Best of 3
Finale
Best of 5 met een 1-0 lead voor het upper bracket team
----------------------------------------------------
Confirming
To be able to start the Acer Predator League of Legends 5v5 in time it is important that every player makes sure that their subscribtion is marked as "confirmed" before 14-04-2017 22:00. We don't really want to but we are forced to forfeit the players that fail to be confirmed before this point in time.
SeatNR and LoL Summoner Name
To make sure that everyone can be easily located we request
all players
to please complete your TP15 profile (
http://tp15.lanergy.eu
) with your seat number and your LoL summoner name.
Discord-Info
Most of the communication between admins and players will go through
Discord
. It is very important that the contestants have to be connected to #league_of_legends at
the Discord server of this event
.
Compo info
When you finished a match and confirmed your score you can start the next match if the other team is ready. If the other team is not responding to your ingame invite or ingame DM please try to meet them at their seatnumber.
Group stage/bracket
Best of 1
Semi finals
Best of 3
Finals
Best of 5 with a lead of 1-0 for the upper bracket team