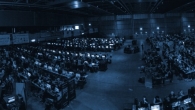 14-04 18:10
Our 15th The-Party edition has just opened!
Het wachten is voorbij! The-Party 15 is nu officieel geopend. De eerste enthousiaste bezoekers zijn al binnen en het belooft weer een gedenkwaardige LAN te worden. Geen kaartje kunnen bemachtigen? Vergeet niet dat je ons ook kunt volgen via
Facebook
,
Instagram
en onze enige echte
Twitch livestream
!
Natuurlijk wil je als eerste je tafel vinden, je computer aansluiten en je groep bij elkaar zoeken maar vergeet daarbij niet dat we om 20.15 de openingsceremonie en de cosplayshow op de mainstage hebben. Dat wil je natuurlijk niet missen! Daarna starten de eerste competities al om 21.30 uur dus vergeet niet je competitiedeelname bij de compo-admin te bevestigen.
Good Luck, Have Fun en laten we er met zijn allen weer een geslaagde editie van maken!
Please log in if you would like to leave a reply..