# TP-Link Hearthstone Tavern Brawl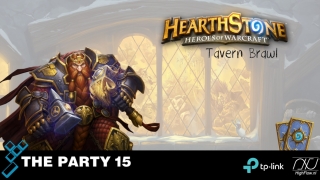 | | |
| --- | --- |
| When? | Sat 15 Apr 13:00 |
| Format? | 1v1 |
| Where? | |
Subscriptions are currently closed!
Rules
Op alle competities zijn onze
Algemene Regels
van toepassing.
Hearthstone Tavern Brawl
Version: 1.0
Hearthstone
Voor aanvang van de competitie dienen alle spelers via de competitiepagina zich aan te melden. Tijdens het aanmelden geef je jouw Battletag en stoelnummer door.
Disconnects
Als een speler disconnected, wacht tot het spel over is omdat hij kan reconnecten. Maak als speler die niet gedisconnected is altijd een screenshot met de tijd, zodat problemen door admins snel opgelost kunnen worden.
Als een speler na een disconnect niet kan reconnecten, forfeit deze speler een game ongeacht de omstandigheden. Als beide spelers disconnecten moet er meteen opnieuw gespeeld worden.
Voor een mass disconnect kan de admin een uitzondering maken.
Communicatie
Gedurende The-Party verloopt de communicatie tussen spelers en admins van de Tavern Brawl-compo via het kanaal #Hearthstone op
Discord
. Houd het kanaal in de gaten voor mededelingen en aankondigingen. Uiteraard kan het kanaal ook gebruikt worden voor communicatie tijdens de compo.
Format
De Tavern Brawl van deze week wordt gebruikt voor de funcompo. Deze week is de brawl "
Valeera's Bag of Burgled Spells
". Je speelt als Valeera en krijgt een deck bestaande uit spells van alle classes. Als je een spell speelt, wordt er een willekeurige minion opgeroepen die hetzelfde aantal mana kost als de spell.
Regels
- Alle matches zijn Best-of-3.

- De eerste speler die 2 games wint, wint de match.
Please log in if you would like to leave a reply..