# Cooler Master Overwatch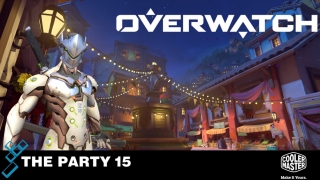 | | |
| --- | --- |
| When? | Fri 14 Apr 22:00 |
| Format? | Team vs Team |
| Where? | |
Subscriptions are currently closed!
In a time of global crisis, an international task force of heroes banded together to restore peace to a war-torn world. This organization, known as Overwatch, ended the crisis and helped maintain peace for a generation, inspiring an era of exploration, innovation, and discovery. After many years, Overwatch's influence waned and it was eventually disbanded. Now in the wake of its dismantling, conflict is rising once again. Overwatch may be gone... but the world still needs heroes.

For communication: https://discord.gg/4kWzMe2

Be sure to add your seatnumbers to your profile(s) and or team description.

Signups close at 21:30
Competition starts at 22:00


Rules
Communication info
All of the communication between players and admins will happen on Discord https://discord.gg/4kWzMe2
Rules
Rule set: Competitive
Map Rotation: After a mirror match
Map Order: Single Map
Return to Lobby: After a Game
All maps allowed
Hero Selection Limit: 1 per team
All heroes allowed
High Bandwidth: ON
Disable Killcam: ON
Choosing maps
Maps will be eliminated from the pool by veto until there are three maps left. A coin toss will determine which team gets to veto first. The team that lost the coin toss gets to choose the first map to play out of the remaining maps. For all following maps the loser of the last map picks the next map.
For the finals five maps will remain in the map pool.
For the grand final six maps will remain in the map pool.
Tournament rules
All matches will be best of three (bo3) except for the upper and lower bracket finals which will be best of five (bo5) Grand final will be (bo7) with a 1-0 adventage for the upper bracket winners
In case of a game ending in a draw, a king of the hill type map will be loaded up and the first team to capture the point wins the tiebreaker. This means you don't have to win the whole round to win the tiebreaker.
Please log in if you would like to leave a reply..