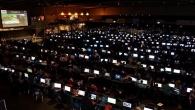 How Are Our Competitors Doing?
Al sinds gisteren is iedereen die zich heeft ingeschreven voor de competities aan het strijden voor de eerste plaats. Nu leek ons een geschikte tijd om interessante tussenstanden van een aantal competities te vermelden.

In de Acer Predator League of Legends 5v5 competitie strijden op dit moment ECV eSports Pro tegen Team Echo Zulu en Asterion Amsterdam tegen mCon esports voor een plaatsje in de halve finale.

In de ASUS ROG Hearthstone competitie is antwerp#21391 aan het wachten op zijn tegenstander, wordt het mCon MaDe of toch mCon Narra?

ECV eSports doet het goed in de Cooler Master Overwatch competitie, op dit moment is het nog even afwachten tegen wie ze moeten spelen in de finale.

Bij de Tt eSports Rocket League compo strijden momenteel Venko Manatee.GG en Get-Gaming Disruption om een plaats in de finale. De verliezer van die match krijgt nog een kans op een finaleplaats in een match tegen Leonid.Gaming RL.

Bij de TP-Link Hearthstone Tavern Brawl moeten nog een aantal matches beslist worden maar het is in elk geval duidelijk dat Capt.FAIL tegen TheDarkSite#2935 in de halve finale staat.

In de Speedlink Unreal Tournament competitie barst de strijd zo los tussen JiePie en R4GE xj9 in de halve finale.

De andere competities zijn nog in volle gang. Wij wensen iedereen nog veel succes!