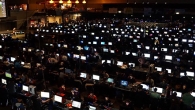 14-04 19:32
The-Party 15 Schedule
The-Party is een bomvol evenement met een wijd aanbod aan vermaak. Met zoveel dingen te doen is het makkelijk om iets uit het programma te vergeten. Daarom hier een handig tijdsschema met onze competities en activiteiten. LET OP: Tijden zijn onder voorbehoud, dit kan altijd veranderen ivm uitloop of andere situaties.
- Vrijdag 20:15 official opening + Cosplayshow
Competities
Vrijdag:
- 22:00 uur: Start Plantronics Counter-Strike: Global Offensive
- 22:00 uur: Start Acer Predator League of Legends
- 22:30 uur: Start ASUS ROG Hearthstone
- 22:30 uur: Cooler Master Overwatch
- 22:30 uur: Tt eSports Rocket League
Zaterdag:
- 11:00 uur: Start FIFA School Cup
- 11:00 uur: Start Speedlink Unreal Tournament
- 11:00 uur: SteelSeries League of Legends 1v1
- 12:00 uur: TP-Link Hearthstone Tavern Brawl
- 15:00 uur: Speedlink Worms Reloaded
Activiteiten
Zaterdag:
- 13:00 uur: ASUS ROG AURA demo
- 15:30 uur: SteelSeries Table Lottery
- 15:45 uur: Acer on Stage
Zondag:
- 10:00 uur: Podiumfinale CSGO
Please log in if you would like to leave a reply..